Social Snap Review – Is it best social share plugin?
In 2021 social media is a life of people can not lives without social media, right?
When we talk about a blogger, they have a blog, then this craziness of social media convert into tons of traffic.
My Story – 2 Years ago, when I'm reading a post that post was awesome I want to share that post on my social media network because I want people also to read this fantastic post, But the problem is that I can't find any social sharing icon, or result was they miss the traffic that may come from my side. Its was only me, but I don't know how many peoples or want to share that blog because that article was brainstorming.
Firstly Look Here ⬇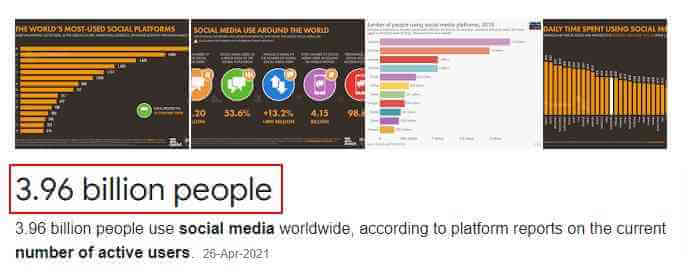 According to the latest report, 3.96 billion+ peoples use social media worldwide.
is it amazing?
If you are running a blog or not using any social sharing plugin in the blog, you will lose 3.96 billion social shares. Social media is life, and you can drive thousands of people on-site traffic-free without paying any single panic.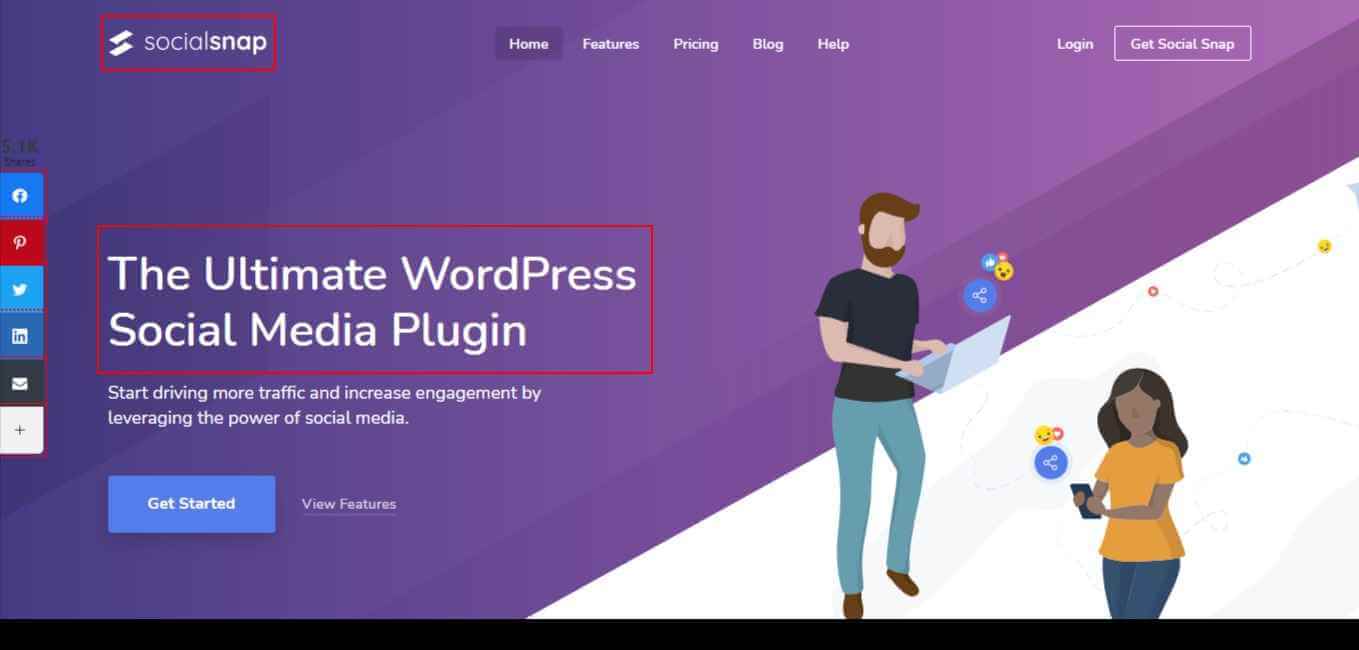 Plus, Visitors can easily share your content with 3.96 billion+ people if you integrate social sharing on the blog if you integrate social media sharing on the blog
In this blog post, we are going to review of Social Snap social media sharing plugins.
Why Social Snap?
There are so many popular WordPress social sharing plugins in the market, but my favorite is a social snap plugin that I recommend to every blogger.
I tried many social sharing plugins but the snap plugin is one of the best, why I'm saying best is you will get all answers till the end of the post:)
You may also like this 10 Best Free Social Share Plugin For WordPress
Some cool free bounces are free for you in this post:)
Let`s dive into
After trying many social wp plugins finally, I shift to Social Snap, and now I'm a fan of this plugin due to its wide range of features. In this review, I'll share a detailed review of Social Snap how they help you add social share buttons to WordPress.
Look here ⬇ What's pro blogger think about social snap.
Quick snap review. Social snap has more features than other plugins social sharing plugins. It's a powerful plugin that boosts your traffic + revenue. Snap WordPress plugin helps you add share buttons, follow buttons, click to tweet boxes, and more amazing features.
social snaps offer easy customizations. It's a power pack social sharing plugin. It always offers more features and functions comparing others. No worry about site speed. It has been developed keeping speed and performance in mind.
On another side, other plugins have performance issues that affect loading speed. But social snap won't slow down your website. And, if you are thinking, is social snap good for my site? Answers are social snap-fit in every site easily and can you set it according to needs or requirements.
---
Social Snap Features List​
Let's start with social snap awesome features. It comes with overloaded features.
Social Media Sharing Buttons
Social snap support over 30+ social networks & allowing your visitors to share your content through their favorite network. You can customized settings according to your needs. 


These are 30+ social networks supported by social snap. 5 different types of buttons you can display Hub, Sticky Bar, Inline, Floating, and On Media Buttons. You can display a social sharing button on your post and pages, or it's too much easy to define where you want to show buttons. You can change.
You can change specific customize settings of the button. The design of the buttons is responsive. You don't need to think about its looks on mobile, laptop, pc, or tablet. It will display correctly on any screen size. You can plug the sharing button in to display the bottom, right, or left corner you want to display.
Share Counts Track
Social snap offers you can display the total share count. When someone shares your blog on a social network, then the share count is displayed according to the number of sharing.

With the help of API, you can track the number of sharing. Social Snap uses click-tracking as well as API. So, you don't miss any share count.
Social Media Stats
In the dashboard of social snap, you can check analytics reports you can see how many shares you get on each social network. This is also my one of the favorite feature. You can easily access statistics on how your content performs and the number of shares on social media.
Click-to-tweet
It my one of the favorite features of social snap. It comes with 6 different styles of click to tweet boxes you can use to create tweetable text boxes. You can set your favorite from inside.


Social follow buttons
This feature definitely increases your social following. In addition to share buttons, you can display the social media follow buttons. If someone likes your post, they can follow you for more interesting blogs. It is too much easy for people who don't need to search for your social profile. They can follow you with one click. Also, you can display total and individual follower counts.
Page View Counter
if you want to track page views on the blog. Then you can also enable it. it shows the data total number of page views of your article.
Open Meta Graph
Social Snap offers all popular social media networks. Open meta-graph helps your blog posts look better when they are shared on social media networks.
Social Warfare Settings & Data Import
People using another social sharing plugin want to move, but they think old sharing data will be lost. if they shift on the social snap. But, this plugin gives you the option that you can easily import data from Social Warfare. Once done, you can delete the Social Warfare plugin after verifying the migration.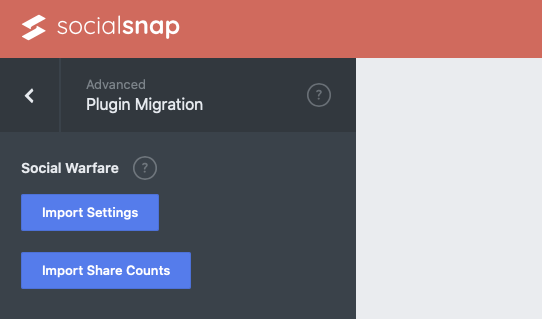 Social Snap Extra Addons
These are all social snap beyond features. But 3 different Addons add for extra functionality.
Boost Old Posts
This add-on adds to boost your old content automatically by sharing them on social media. It's a great way to leverage all of your existing content and reach new visitors!
Social Login
This add-on easily allows your visitors to log in using their favorite social media accounts: Facebook, Twitter, Instagram, Linked In, and Google. You need to set up the networks and the login options individually. This add-on will help to improve productivity in blogging.
Social Auto-Poster
This add-on supports automatic posting on your social networks. When you published a new article with the help of this add-on, your blog automatically shares on social networks, and this also boosts your site traffic. Plus, in the meta box on the post, you can add messages and hashtags. Save time having to post across every platform.
Social Content Locker Coming Soon
Ask your visitors to share your post in order to access the content behind the button. This is a great way to increase your social sharing and engagement with your visitors!
---
Pros
Doesn't affect on site speed
Counting Share Counts
Offer Advanced Features
Advanced Analytics
30+ Social Share Networks
Easy to Setup
Mobile-friendly
Restores lost shares
Highly customizable Button
Page View Counter
Social Snap's Social Follow Widget
Social Meta Tags
Content Locker
Fully Customizable Buttons
Cons
Free version is limited
No quick chat support
Add-on options only for Pro or Agency not for plus
Pricing of Social Snap
Here is the detailed Pricing of Social Snap Plans:
1) Plus Plan
Plus plan starts at $39/yr for a single site. In the plus plan, you will get all the premium features above apart from those addons. In plus, you can`t use social snap addons.
2) Pro Plan
This is the second plan of social snap. It starts at $99/yr. It's the most popular plan overall. In the pro plan, you can use it on up to 3 Sites. With this plan, you'll get access to all features, including the special add-ons.
3) Agency Plan
The agency plan starts at $299/per year, which gives you access to use the social snap on 15 different websites.
Which Plan Perfect For You?
The social snap comes in three different plans Plus, Pro and Agency. Let's break it and try to understand which one is best for you:)
1. Plus Plan – Plus, plan support 1 site. This is best for a newbie who has a limited budget.
2. Pro Plan – Pro plan supports up to 3 sites. Pro plan is ideal for professional bloggers and small businesses who run multiple blogs. if you want social snap for multiple sites, then the pro plan is best for you:)
3. Agency Plan – As the plan name suggests, the agency plan is ideal for big businesses. The Agency plan gives 15 sites with all the addons.
in all 3 plans, you will get access to one-year updates and 1 year of support. No matter what plan you choose. You need to renew your social snap license every year to keep getting updates and support. Plus social snap offer 30 days money-back guarantee. You will get a full refund in case you don't like the plugin.
Free Version of Social Snap
Social snap is a freemium plugin means it comes in the free and paid version. The free version is available in the WordPress Store; because it's free, you can enjoy it with a limited feature set. Pro version adds more social networks, automatic share count, share count other features mentioned above. If you want to test the plugin's basic features, you can go with the free version. Below is the link for both free and paid versions; go check it out.
Support
As you know, Social snap comes in the free and paid version if we are talking about support. In the free version no email or sort of help. If you need support, you can reach them via the WordPress support forum or contact them via their website. You'll have to wait too long for a resolution.
But in the pro version, you will get a faster response for your query. in the pro version, and you get 1 year of full support.
Free Bonuses For You:)
if you're planning to buy social snap or want to buy in the near future, then i have some terrific bonuses free for you:)
Click here to check out your Bonuses🙂
---
Social Snap Tutorial: How to Activate Social Snap Plugin?
STEP 1: Download Social Snap Plugin
Firstly you need to login into your social snap account. You'll see a download button; click on the download button and download this plugin.
STEP 2: Install This Plugin
It's too much easy process. Go to Plugins> Add New>Upload plugin and install. After complete installation, enter your license key to activate this plugin.
Congratulations, now your social snap premium plugin is active.
---
FAQs Related to Social Snap Plugin

Q. What is Social Snap?
Social Snap is one of the popular social sharing WordPress plugins. With the help of this plugin, you can insert social media sharing network on your blog, which boosts your engagements or traffic.
Q. Can we recover the Social Share count from Social Warfare Plugin?
Yes, you can. Social snap allows you can recover your social share count from Social Warfare to Social snap in just a few clicks.
Q. Will Social Snap slow down my website?
It's only a myth. Many people say that your site will be slow after installing a social snap, but I want to clear this stupid thing. Social Snap is carefully built with performance and security in mind. Social Snap does not affect your site speed or security.
Q. Is it better than Social Warfare Plugin?
Yes, it's too much better than the Social Warfare plugin. Social snap offers lots of unique features which are missing in other social warfare sharing WordPress plugins.
Q. On how many sites can I use Social Snap?
Social Snap comes with 3 different plans. Plus, Pro and Agency. Depends on your subscription plan. The Plus plan allows you to use the plugin on 1 site. The Pro plan allows up to 3 sites and the Agency up to 15 sites.
Q. is there any money-back guarantee in a social snap?
Yes, you will get 30 days 100% money-back guarantee after the purchase if you don't like Social Snap.
Q. is there any trial version of social snap?
No! social snap doesn't offer any trial. But social snap offers 30 days 100% money-back guarantee in case of don't like Social Snap.
Q. is there any free version of social snap?
Yes, Social snap has a free version with limited features. Click here to download a free version.
Final Thoughts on Social Snap
Social snap has a really well-designed social sharing plugin. it's pretty much. You can enable or disable everything depending on your needs. the interface of this plugin makes everything easy to control all of its settings.
Overall, it's a solid social share plugin for WordPress and the best alternative to Social Warfare. It's such a great product with his beyond feature list. It covered everything and offer so much more features and customization options. Social Snap defiantly gives you the best user experience.
Download Free Version | Download Pro Version
Is this article helpful for you?
I've tried to cover everything about Social Snap Review, but Still confused need any helps? Feel free to let me know via the comment below.
If you really like this Social Snap Review, please share it on social media networks.
Check Out Also ⬇