Pagemaker.io Review – Best Landing Page Builder | Lifetime Deal 97% OFF
Are you looking for a page builder but not able to find it at the right tool?
In this article, I'm going to share with you the best landing page builder in the market that will help you to build your dream landing page and increase your sales like flowing water.
The main focus of this article is pagemaker.io it's a great landing page builder. If anyone doesn't know what pagemaker.io is then let me tell you.
What is a Pagemaker?
PageMaker was designed specifically for Bloggers or eCommerce, thus allowing to quickly create landing pages for lead generation.
A variety of platforms are available for advertising, for example, social media, email, blogs, or Facebook/Google ads.
PageMaker is optimized and designed specifically for generating more sales on your products, although it can be used for traditional lead generation landing pages.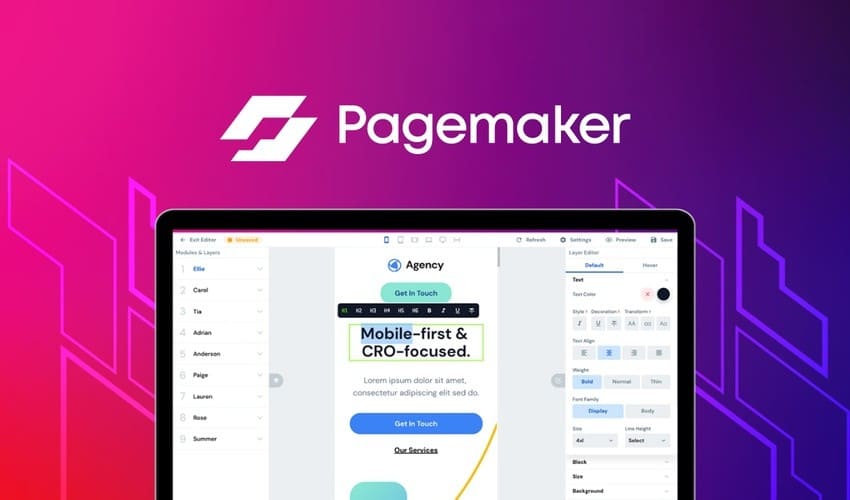 Shopify, Dropshipping, e-commerce, Amazon, or any other way you sell products online will require a landing page. The most beautiful way to accomplish that is with PageMaker.
The result will be an increase in sales, higher rankings, and more reviews for your Amazon product, as well as an increase in your customer email list.
Amazon, Shopify, WooCommerce products, and others are best suited for using PageMaker.
Creating beautiful mobile-first landing pages that look great across all devices (desktop, tablet, and smartphone) is easier than ever with PageMaker, whether you're selling an ebook, running a membership site, or offering premium content.
By using Pagemaker you can create amazing landing pages in less than 15 minutes for your business.
I hope you have understood what a Pagemaker is and why it is so amazing compared to other page builders.
Now let's come to the amazing features of Pagemaker that will be provided to you to create your dream landing page.
Features of Pagemaker
1. eCommerce friendly:
As I earlier said eCommerce is the specialty of PageMaker. All the features you need to sell more products are in one place with PageMaker.
PageMaker allows you to optimize your keyword ranking on Amazon and other eCommerce sites.
Through your landing pages, you can generate new revenue and advertise your products. As your keyword rankings increase, you will see an increase in organic sales.2.
2. Sales Tools:
With the help of PageMaker, Amazon sellers have access to everything they need to succeed, including landing pages, list builders, dynamic coupons, etc.
You can automate your Amazon discount codes to your customers' email inboxes so you can run promotions to boost sales and rankings.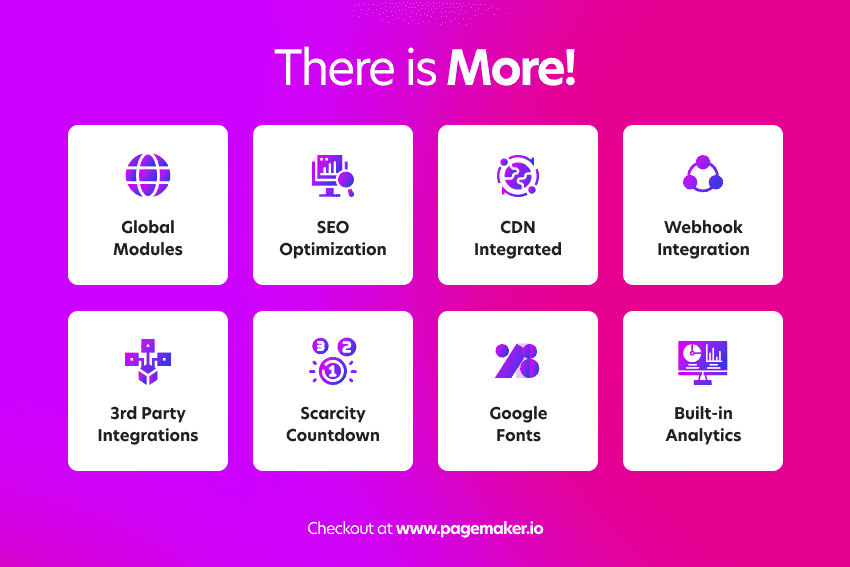 3. The ultimate mobile-first experience:
PageMaker's Mobile-First Power Editor helps you create a mobile-first landing page campaign that works seamlessly on any device.
Creating a better shopping experience for your customers will increase conversion rates. Focus on where you get the most traffic.
4. Landing Pages for Conversion Rate Optimization:
Make your landing pages for CRO as effective as possible by using Amazon-tested CRO landing pages.
Their CRO-focused sections/modules include more than 150 and are continuously adding more.
5. Fast web hosting:
No need for hosting with PageMaker and is built for traffic. With PageMaker, you can be confident the landing pages are optimized and load quickly.
Please keep in mind that it's not for the free plan, although after reading this article you'll receive a lifetime offer on pagemaker.io.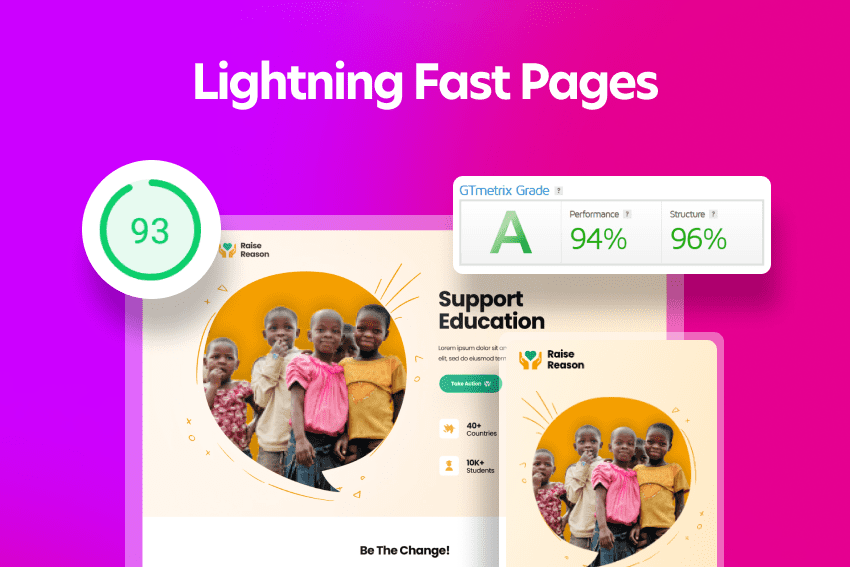 You'll also get a custom domain name from pagemaker.io. It's not a free plan, but as I mentioned, it's a lifetime offer that includes both hosting and domain. No renewal fees will be charged.
6. Drips email:
Your PageMaker dashboard allows you to view and download leads. Create an email drip campaign that converts leads into paying customers by integrating with all your favorite email clients.
Promote your promotional landing page campaign with Facebook ads, Google ads, social influencers, SMS, affiliate links, or your email list.
You can increase your visibility on Amazon and other e-commerce platforms by offering incentives to grow your sales velocity and rankings, which will ultimately lead to more organic sales.
7. Insights:
Your landing page campaigns will gain invaluable insight from the real-time campaign analytics dashboard.
8. Easy to use for videos:
You can create landing pages with videos. The videos on a landing page can help you comprehend the content or the product better because they can explain everything in the content or what it is all about.
A single video can increase conversion rates up to 23 percent when added to landing pages.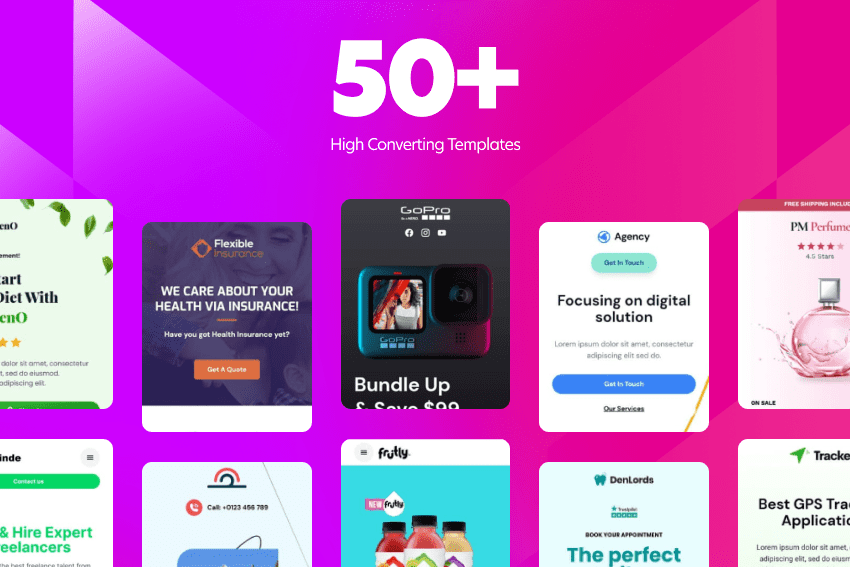 9. Search Engine Optimization (SEO) on page:
You can utilize our SEO-optimized templates to increase organic sales.
Make your landing page searchable on Google by using PageMaker's SEO tools.
Using the landing page builder, you can customize headers, titles, image tags, and more which eventually improve sales by appearing on page one of Google search for your Amazon product.
10. This Power Editor plugs in and plays:
Using a blank canvas or a ready-made landing page template is the best option. You can create an engaging landing page within 30 minutes by using a plug & play power editor.
Convert more visitors into customers by building mobile-friendly landing pages. You can increase sales on e-commerce platforms with the powerful tools they offer.
I hope it was an amazing journey here now let's talk about some alternatives of pagemaker.io.
Pros and cons of Pagemaker.io
Pros
User-friendly
Amazing looking templates
Good speed
Easy to use

Best

user experience
Unlimted Traffic Handle
Lifetime access to Pagemaker
No codes, no stacking
Unlimited global blocks
Autoresponder integrations 
Best for: Ecommerce sellers, marketers, and site owners
Alternative to: Swipepages, InstaPages, and LeadPages

60-day money-back guarantee
Prcing
Pagemaker offer 5 different plans
Plan 1 (License Tier 1)
Plan 2 (License Tier 2)
Plan 3 (License Tier 3)
Plan 5 (License Tier 4)
Plan 5 (License Tier 5)
Alternatives that cannot compete Pagemaker.io
Swipepages
It's a landing page builder that's focused on ROI and cutting-edge lead generation.
You can build mobile-friendly landing pages using this landing page builder. A landing page builder based on AMP (accelerated mobile pages).
You can customize landing pages and can create forms to capture leads.
You can add text fields, toggles, checkboxes, and more to get all the information you need but Pagemaker provides you more than any other page builder.
Swipe page form builder lets you create longer and more complicated forms into multi-step forms to get more users to become your lifelong customers.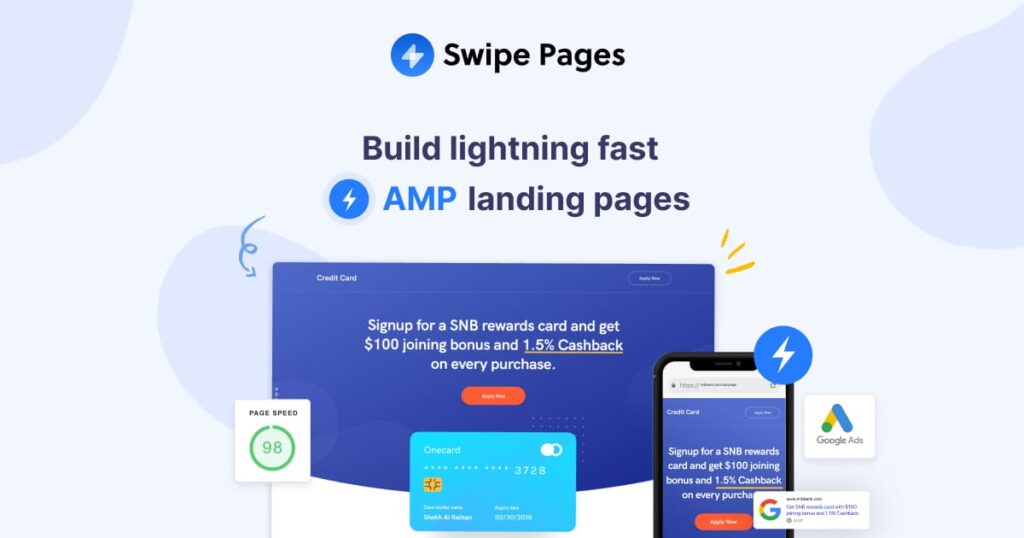 Don't be too happy by seeing the features of swipepages, you don't the drawbacks of swipepages.
Swipe Pages also has customization limitations like any visual or drag-and-drop editor.
For instance, customers may encounter issues with custom CSS code when custom solutions are required.
It's impossible to place elements anywhere on the page, nor can users customize every aspect of the pre-designed templates
Don't waste your money on such page builders. Instead use Pagemaker that will provide you all the features but not for the monthly package, not for the yearly package; it's for a lifetime.
Here is my pagemaker.io account look


You can also check more black Friday deals 2021
Conclusion
This was a review article of pagemaker.io and an extremely best landing page builder all over the globe.
In the review, we covered some of the features, pros and cons, and some alternatives that are not better than Pagemaker.io.
Pagemaker.io is now offering their lifetime deal on Appsumo. It's the best time to get it because once you buy it you'll be able to grow your business.
If this article was helpful to you then you can describe your thoughts in the comments section below. I'd love to read your thoughts on it.